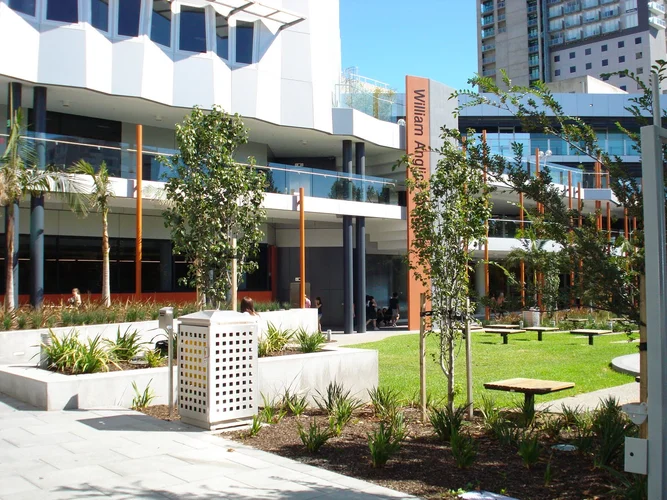 Học viện đào tạo TAFE William Angliss
Australia
Statistics

| | | |
| --- | --- | --- |
| | 8 | Undergraduate programs |
| | 0 | Postgraduate programs |
Overview
Statistics

| | |
| --- | --- |
| Institution type | Private |
| Year established | Data not available |
| Campus setting | Data not available |
| Student population | Data not available |
| foreign students | Data not available |
| Nationalities | Data not available |
About Học viện đào tạo TAFE William Angliss
Học viện William Angliss là trung tâm chuyên khoa lớn nhất tại Úc chuyên về Thực phẩm, Du lịch, Khách sạn và Sự kiện. Viện hoạt động trong nước và Quốc tế, cung cấp chương trình đào tạo tập trung trong 4 năm.
Trong chuyên môn của mình, Viện cung cấp đầy đủ các chương trình từ VCAL và VET thông qua Giấy chứng nhận, Văn bằng, chứng chỉ sau đại học và bằng cấp. Viện được cung cấp đào tạo ở mỗi nước và vùng lãnh thổ ở Úc.
Viện tiếp tục phát triển các chương trình dịch vụ Quốc tế. Viện có 4 bốn quan hệ đối tác ở Trung Quốc, một đối tác ở Sri Lanka và đào tạo Giáo dục Thường xuyên (CET) Trung tâm tại Singapore hỗ trợ một nền tảng phân phối quốc tế. 
Admissions
Intakes
Admissions Statistics

| | |
| --- | --- |
| IELTS | Data not available |
| TOEFL | Data not available |
For admission requirements and intakes for each individual course/programme please refer to course details.
Tuition and application fees
Estimated tuition fees as reported by the institution.
Tuition and Application Statistics

| | |
| --- | --- |
| Application fee (local students) | Data not available |
| Application fee (foreign students) | Data not available |
| Student visa fee (foreign students) | Data not available |
Living cost
Data not available
Average living cost in Úc
The amount is indicated taking into account the average cost of food, accommodation, etc in Úc for 2023
Costs Statistics

| | |
| --- | --- |
| Food | Data not available |
| Accommodation | Data not available |
| Others | Data not available |
Accommodation
Accommodation Options
Temporary accommodation – Varies from motels and budget hotels, to backpackers and hostels
Student apartment - Large centres full of apartments of varying sizes (1 to 5 bedrooms)

Located in or near the city
Offers a furnished bedroom with access to shared facilities such as bathroom, laundry or living space

Homestay - A homestay involves living with a family in their home.

​Offers international students the opportunity to live with an Australian family, get to know their
way of life, an opportunity to practice their English and enjoy the comforts of a home away from home.

Private rental - Renting an apartment or a house either alone or with housemates

Privately from real estate agents or a private landlord.
Often unfurnished so students will need to buy furniture and kitchen utensils
Campus
Facilities available:
Student Spaces and Retreat Rooms

​Male and female retreat spaces are provided in Building D, Ground Floor as a space for quiet contemplation or prayer.
The Lounge is located in Building C, Level 1 for all students looking for a place to eat, meet and relax between classes. Activities available include pool tables, table tennis, board games and hiring of sporting equipment, TV with FOXTEL, vending machines, reheating facilities for food and running hot and cold water.

IT, Wifi & Printing, myWai Support
Lost Property
First Aid and Medical Centre​

There are a number of first aid kits and defibrillators located around the campus. The kits have signs featuring a white cross on a green background. Each kit contains a list of current first aid Level 2 staff members. The Institute First Aid Room is located in The Lounge in Building C, Level.
A full range of medical services are offered at the Medical Centre, including pregnancy testing and advice, pap smears and contraception, pathology testing, health checks, dietary advice, referrals, diving medicals  as well as sports and travel medicine.
​The Medical Centre offers a bulk-billing, fully confidential service to all students. International students with a valid Overseas Student Health Cover (OSHC) card can also see the doctor at no additional cost. A Medicare or OSHC card is required for an appointment.

Transport and Parking
Student Services
Bakeshop
Angliss Spa
3 demonstration kitchens
4 training bakeries
Confectionery Centre
Coffee academy
Hotel business centre
Wine sensory evaluation centre
Chocolate laboratory
110 classrooms
Food demonstration centre
Learning Resource Centre with access to over 130 computers
William Angliss Institute's main campus lies in the heart of Melbourne, the world's most livable city. Culturally diverse, without being overwhelming in size, Melbourne is welcoming, multicultural and lively. William Angliss Institute's Melbourne campus is located at 555 La Trobe Street, Melbourne.
William Angliss Institute's Sydney campus is located on the ground floor 26-32 Waterloo Street, Surry Hills.
Student population
Data not available
Total population
Student Statistics

| | |
| --- | --- |
| Undergraduate students | Data not available |
| Postgraduate students | Data not available |
| foreign students | Data not available |
Mission
Mọi thông tin hỗ trợ về tư vấn du học, thông tin hỗ trợ tài chính hoặc hướng dẫn cách thức tìm các chương trình học bổng, xin vui lòng điền thông tin vào form có sẵn, hoặc liên hệ với EasyUni Việt Nam theo số hotline - email: hello-vn@easyuni.com